Jan 22 Sermon, "What it Means to be a Methodist" Series: What Draws us Together--Connectionalism
Scripture:
Ephesians 4: 1-16
John 17: 20-26

"Hey, that's not Waldron United Methodist Church!?"
Looks like a very big church—perhaps a city church. Definitely not us!
I can tell you many things about this church—youth have gone out to sleep on the street and were interviewed by the local news to raise awareness about the homelessness in their part of town. The choir is great—they have a pianist who really gets into the music and kind of bobs her head up and down.
The pastor is a dynamic woman who speaks with great joy and passion about the love of God, and yet has the heartache of living with a husband who has Alzheimer's at a fairly young age. They have a vibrant Steven's ministry, where members are trained to be grief counselors with other members in confidential, life giving settings. This, friends is your presence as a United Methodist on Wilshire Boulevard in Westwood—the neighborhood around UCLA where Lara and I used to attend before we came to know the Methodists here in this neck of the woods.
You have a real and living connection with Westwood UMC—and it is not just through Lara, who transferred her membership from this church to Waldron. It is through a system that connects our local churches together to minister to the world in ways which might be impossible by ourselves. It was the faith and genius of John Wesley, thefounder of Methodism, to adopt such a structure forhis renewal movement in eighteenth century England - aconnectional system. For Wesley, that meantindividual Christians involved in a small fellowshipgroup, designed for faith-sharing and holding oneanother accountable to a life of discipleship. Those small groups were joined into congregations,which were joined into the larger connection of thewhole of the Methodist movement.
Even closer to our church in connection is the body of United Methodists within the "connection" of the Arkansas Conference. This church is literally a "charge" of the Methodist connection in this community. You may have noticed that I never took vows of membership within this particular church, because my membership is with the whole "connection" of United Methodism within the Arkansas Conference. Of course, we do great ministry right here, throughWaldron United Methodist Church. But we do even greater things through our worldwideconnection. This is who we are and what we supportthrough our generous apportionment and mission giving.
Through our apportionment, that sum of money that our church sends to the conference and district and combined with the money collected by every other charge, we are able to provide for ministries in needed areas which are decided on by representatives of each charge at the "Annual Conference." The apportionment is the "lifeblood" of the connectional system. It grounds the churches in the reality of their connection to the rest of the churches in the conference.
Our Book of Discipline, which is basically the constitution of the church, states that "Connectionalism in the UM tradition is multi-leveled, global in scope, and local in thrust. Our connectionalism is not merely a linking of one charge conference to another. It is rather a vital web of interactive relationships.
All this is not for its own sake. As the retired Bishop Kenneth Carder of Mississippi once said, "Polity is Ecclesiology", or in simpler terms, the way we structure the church gives us insight on what we believe the church represents in the world. The connectional ideal is grounded in the very scriptures that we read today. We hear that Jesus wishes us to be "One, as the Father and I are one." We also are familiar with Paul's referral to the church as a body, and that as he says in Ephesians, "We are members, one of another."
Paul speaks about the unified ideal of the church, and it is obvious that through a healthy and vibrant connection, we are more capable of reaching the goals of this earthly representation of the Body of Christ, in which we aspire to "grow up in every way into him who is the head, into Christ, from whom the whole body, joined and knit together by every ligament with which it is equipped, as each part is working properly, promotes the body's growth in building itself up in love."
In my own experience, the connectional church has indeed promoted the body's growth in building itself up in love." Several of you are involved in a "Committee on Care" with 2 pastors from this district. This group's sole purpose is to foster my spiritual growth as the pastor of this church. This is part of the three year ordination process that I am currently involved in that is administered by the Arkansas conference to assure the people of its churches that it is served by a competent clergy. It has been very helpful for me to have these mentors to talk with about my struggles, joys, and new insights as I am called to be the best pastor I can be. This kind of process would not be in place if we didn't belong to a connectional church, where the pastors of UM churches in Alma and Greenwood care very deeply and pray for my blooming ministry right here in Waldron.
Perhaps one of the most visible and impacting aspects of the "connectional church" is the iteneracy. Though it may sometimes be a reason you lament being a United Methodist, you are served by an "itinerant" clergy. One who comes anD lives and serves this community along side you, but who remains a person "assigned" to this charge, and at the discretion of the Bishop and his cabinet may be reassigned to another "charge" within the Conference.
This method of organizing church leads to a very real sense of connection between the Methodist churches in one area because they are all served by the same clergy, and because they all contribute to one purpose—making disciples for Jesus Christ.
In 1 Corinthians 3, Paul speaks of this same structure within the church. He writes
Using the gift God gave me as a good architect, I designed blueprints; Apollos is putting up the walls. Let each carpenter who comes on the job take care to build on the foundation!
11 Remember, there is only one foundation, the one already laid: Jesus Christ. 12 Take particular care in picking out your building materials. 13 Eventually there is going to be an inspection. If you use cheap or inferior materials, you'll be found out. The inspection will be thorough and rigorous. You won't get by with a thing. 14 If your work passes inspection, fine; 15 if it doesn't, your part of the building will be torn out and started over. But you won't be torn out; you'll survive - but just barely.
16 You realize, don't you, that you are the temple of God, and God himself is present in you? 17 No one will get by with vandalizing God's temple, you can be sure of that. God's temple is sacred - and you, remember, are the
When I was first appointed to this church, I had a dream of being a kind of "traveling architect" who came upon a group of people building a house. In my dream, you—the church were the people working on the house, and the house was something very special, but I couldn't quite put my finger on what it was meant to be. The house was a unique kind of place, windows sticking out here and there, winding staircases and turrets, a large, welcoming front door, and a couple back doors. As I came up to the house and made my suggestions for other additions to the house, you scratched your head and surveyed the plans, you shared your tools with me and we began building. It became clear to me that you, the church, had been welcoming other "traveling architects" like me for quite some time, which was why this place was so unique. After reading this passage from Corinthians the other day, it struck me that the building that we are working on is literally God's Temple—Not a physical structure, but the wonderful temple which is YOU according to Paul's letter to the Corinthians.
With an itinerant clergy, you may sometimes feel like a watering hole for clergy to pass through and offer their "two cents." But if we pay attention to Paul's metaphor, we see that we are indeed building a very unique and beautiful house—one that God can live in. One that has welcoming doors and lots of windows and even a couple back doors. We should pay attention to the building materials that we use, because we want this house to stand the test of time—and it will endure some trials. However, with our connection, with the input of all those traveling architects, the Spirit will lead us to build on solid foundations.
One thing I really love are the great cathedrals of Europe . Some of us have been privalidged to havestood under their great lofty domes and felt ourspirits soar to the heights. Imagine if you will, thework of the first builders, learning how to keep thosedomes aloft. It was trial and error.
Did you knowthat the great dome of the Hagia Sofia in Constantinople collapsed twice before the builderslearned how to do it right? But the cathedralbuilders gradually learned about arches and flyingbuttresses. They learned that the more structuralconnections you make, the stronger the building, themore structural connections, the larger and moreexpansive the dome.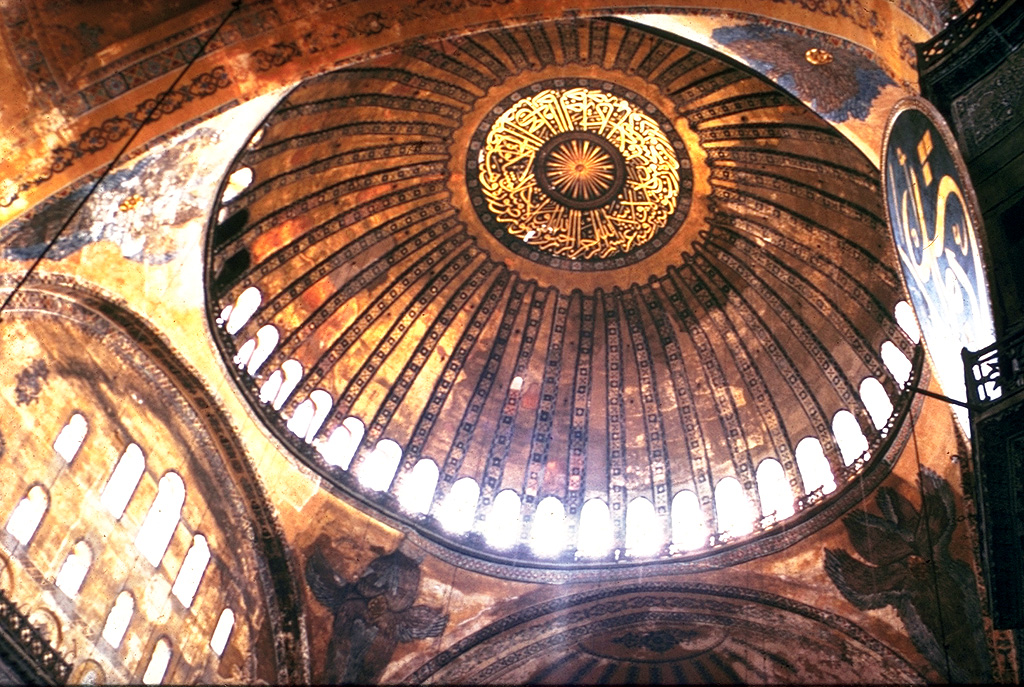 Just as for our greatest cathedrals, the same is truefor the living body of the church as well. The morestructural connections there are, the stronger themission. The more connections there are, the largerand more expansive the witness.